All International Magazine Centre talks are recorded, with excerpts distributed globally through our newsletter – sign up here. Attend in person to hear the talks in full, meet new people and receive an exclusive poster designed for the event.
See videos, photos and key take aways from our past events here.

---
Troika Consulting: Present your magazine publishing problems to the experts – 9 September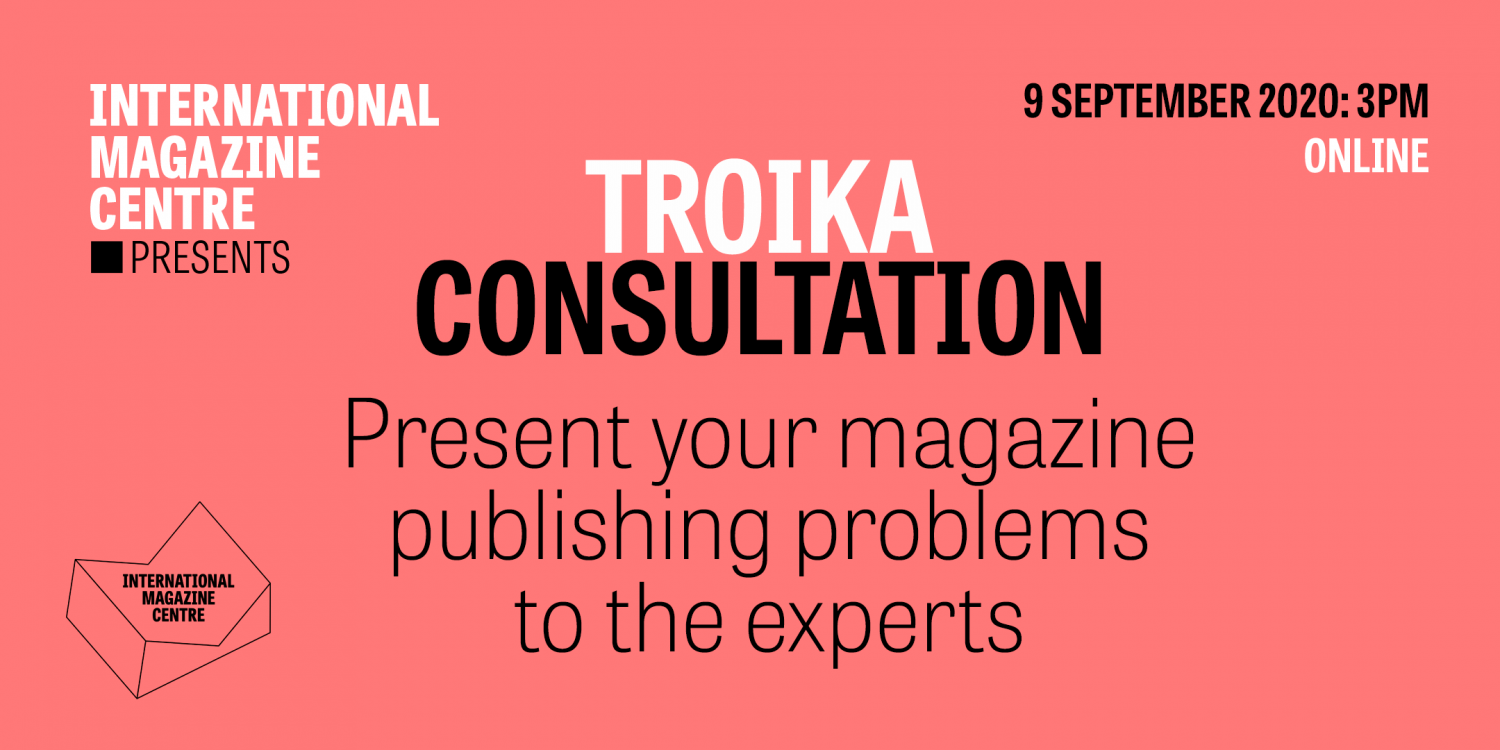 [Troika is] a fascinating process. We each had a chance to present a business problem and got some instant, creative, inspiring ideas. I came away with a page of relevant notes for mine!
Carolyn Morgan, publishing consultant
As publishers, you're well versed in the benefits of building engagement with your own audiences, but what about sharing experiences and learning from each other?
There are fantastic insights to be gained from honestly sharing problems with your peers in the industry, and there's no better time than now.
Join us on 9 September from 3pm-4.30pm to be part of this Troika Consultancy workshop, to help future proof your business.
Attend this and all International Magazine Centre events for free as part of our Patreon membership. Find out more here.
The discipline of listening to other people frankly discussing your business problems without being able to interrupt to clarify or justify was really powerful – allowing me to absorb and reflect, without feeling attacked. Then you have a turn to hear and discuss other people's problems, which allows you to assume a completely different perspective, shifting your view of your own business.
Paul Evans, Fourth Estate Creative


What are the benefits of Troika Consulting?
'Troika' is a peer-to-peer consulting technique that allows groups of delegates to share business issues they're experiencing, and to help solve the problems of others.
The benefits are:
Rapid input from a room full of peers and experts
A non-judgemental environment with people keen to help
Building instant networking connections from a position of trust
Troika encourages collaboration and capitalises on the shared benefits of bringing together a diverse range of views and approaches to solving problems.
Each group includes three publishers, one magazine publishing expert and facilitator, and one supplier to the industry.
A brilliant way to get fresh eyes and expert brains onto a problem. In my case it quickly told me that I'd been approaching the problem in the wrong way, which opened up a whole new set of options, on top of the excellent suggestions from the room. The benefits: rapid input from a room full of peers and experts; non-judgemental environment; networking.
Alan Rutter, Fire Plus Algebra


Our Facilitators
We're inviting an incredible mix of experts in magazine publishing to facilitate each of the rooms and offer their advice. Confirmed so far are:
With further names to be announced…
Want to attend International Magazine Centre events for free? Sign up to be a Patron and get access to our Mentoring Scheme too! Find out more here.
This was a brilliant event and would recommend to everyone in publishing or content. A great way to get feedback on your ideas and business model. Check it out.
Rupert Cornford, Story Publishing


Testimonials
Describing Troika is like describing the rules of a board game – you understand the concept, but only really get it once you've played.
Below are details of how it works, but you'll be led by your facilitator on the day so try not to worry too much about the details – just trust in the process.
If you're not sure, check out our key take-aways and amazing testimonials from our last Troika in June.
What a brilliant experience today!! We were a great group and it was wonderful to sit back (for once) and listen to others speak! The feedback and comments were incredibly useful and thought provoking. Thank you for including me and would definitely go again on the whole experience.
Margot Wilson, Industry Lane


How it will work
Troika happens in clusters of three delegates, with a facilitator to control timings and prompt questions.
The delegates take turns at being the 'Client', presenting a problem to the other two delegates and the facilitator as 'Consultants' who generate ideas, suggestions, advice and ways of doing things differently. And then they rotate.
Each of the attendees is invited to breakout into designated rooms
Each of the three publishers thinks about the problem they are currently facing and how to present it to the group (1 min)
Someone volunteers to be the Client and shares their problem (1 min)
Consultants (everyone else) ask the Client clarifying questions (2 mins)
Clients turn their video off and mute themselves, but keep listening and taking notes. Consultants have a conversation and generate ideas, suggestions, advice and ways of approaching things differently (10 mins)
Clients return to the room and share with the Consultants what they took out of the experience (1 min)
The group switches to the next person and the steps are repeated
This event is free as a membership benefit for International Magazine Centre Patrons! Become a Patron too here.
We traded professional 'problems', offered ideas and support and came away thoroughly energised. I highly recommend it.
Kitty Finstad, The Good Vikings


Who should attend
We want everyone in attendance to get a lot from the Troika, so this workshop is targeted at:
decision makers from SME magazine publishers
people with a good knowledge of magazine publishing
consumer, B2B, contract, membership, internal, indie and local magazines
from anywhere in the world
Need to Know
Date and Time: 9 September, 3pm-4.30pm BST
Tech required: Zoom version 5.0 will be used – you'll receive a link and password for the event once you have reserved your place.
Tickets
Tickets are available from Eventbrite
FAQs
Q: What platform will the Troika be delivered on?
A: Zoom version 5.0 – please update your system if you are using an earlier version. You'll receive a link and password for the event once you have reserved your place.

Q: What tech will I need for the Troika?
A: You'll need a good quality Internet connection to be a part of the event and, if possible, a set of headphones to help eliminate feedback. We recommend you have a back-up in case your WiFi drops out – tethering to your mobile phone or connecting to your router using an ethernet cable are good options.
Also make sure you have a notepad and pen to hand.

Q: I've not done a Troika before and am a little confused about the format…
A: Don't worry, we'll go over it again on the day and your facilitators will be familiar too – they'll guide you.

Q: What if I'm in a room with one of my competitors?
A: We'll ensure that you aren't. The pre-registration required will allow us to think carefully about who will be in each room.

Q: Will the rooms be themed?
A: No. Troika's are most effective when the Consultants are from another area of the business, and can offer a non-biased perspective without preconceptions. So it wouldn't make sense to group similar problems together as you'd all just be commiserating on the same subject.

Q: Can I ask to be in a specific facilitator's room?
A: Sorry, no. We've invited a team of publishers and experts with great care and know they will be excellent at both giving advice and bringing out the best in their Consultant team.

Q: Will the learnings be shared?
A: Chatham House Rules will apply, but Facilitators will ask for a key take-away from you to share with the wider group at the end. If you'd rather not share we completely understand and will respect this.

Q: Will each Troika be recorded?
A: No, the individual Troikas won't be recorded. We'll hit record when we all return to the main session, so that Facilitators' key take-aways can be noted and used in our post-event blog. If you'd rather not share a key take-away with the wider group your Facilitator will understand and respect this.

Q: Can I share the event with others?
A: Thank you, please share the Eventbrite page, rather than the Zoom link you'll receive once you've booked, as it will make for awkward conversations on the day if people gatecrash.

Q: I'd like to attend but am unable to afford it at the moment, do you have a system in place to offer support?
A: Yes, at the time of writing this, we have 3 'Pay it Forward' tickets from the last event that are open to you if you're unable to pay at the moment – these are free tickets – please email us to enquire about their availability.
We're running the same scheme on this event too, inviting those that are in a position to do so to 'Pay it Forward' with the price of a ticket for someone in need. If the 3 mentioned above are used quickly we will contact you as soon as more become available.

Q: I have another question, who can I contact?
A: Email us at enquiries@internationalmagazinecentre.com and we'll come back to you as soon as we can.


Event Partners
Many thanks to our event partners for their fantastic support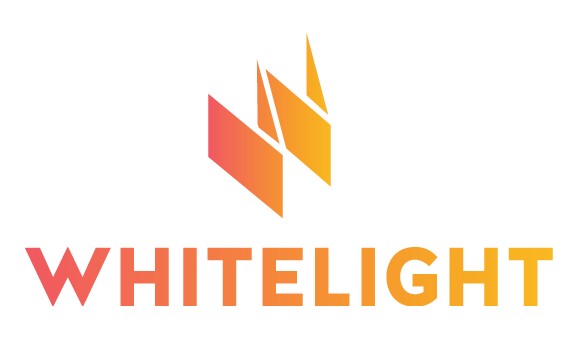 White Light Media is a content agency dedicated to winning hearts and minds. Our work is based on powerful storytelling, beautiful design and close collaboration with our clients. Contact eric@whitelightmedia.co.uk to speak about collaborating on any content projects. whitelightmedia.co.uk
---