Join us for two half-day workshops with multimedia training consultant Corinne Podger
11 & 12 August 2021, 9am-1pm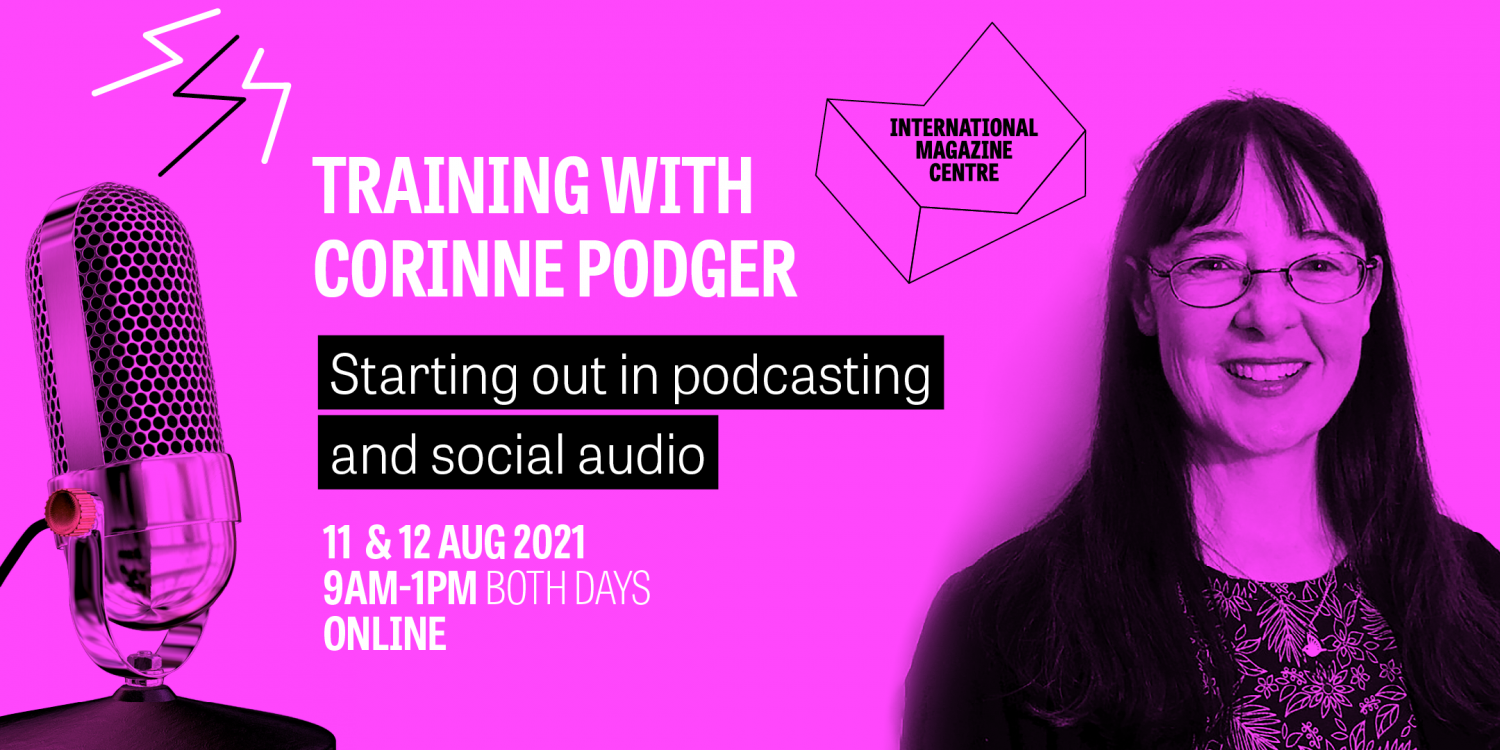 Magazines are all about connecting with specialised and niche communities, and audio is a great way to build a personal relationship with those audiences.
In these two sessions, you will explore whether these are the right platforms for your business. You will leave with a solid overview of how to make a podcast, tips for affordable equipment and software, resources to help you create your first show.
You will also learn how to use the new social audio tools Clubhouse and Twitter Spaces, understand the differences between them, and leave with tips on building an audience for your brand on these platforms.
About your trainer
Corinne Podger is a multimedia training consultant from Australia, who has trained newsrooms and social impact organisations in over 60 countries to use affordable desktop tools and smartphones to create video, podcasts, multimedia, photography and infographics to boost digital reach and strengthen audience engagement.
Recent clients include Trinity Mirror, the Financial Times, the Independent, BBC Media Action, Thomson Reuters Foundation, ABC Australia, the World Health Organisation, the European Climate Foundation, and Google News Initiative.
Corinne teaches on a sessional basis at the Universities of Sydney and Melbourne. Prior to launching her consultancy, Corinne worked as a print, radio, online, social media and television journalist for over 20 years, primarily for the Australian Broadcasting Corporation and the BBC World Service.
What will the course cover?
Day 1 will cover:
Which audio format is right for me? Audio formats, audience identification, surveying demand, mapping your idea
Idea development workshop
Recording audio, equipment and software, tips and resources, music sources
Audio recording practical, using the 'simul-rec' method
Podcast requirements, audio hosting, web hosting, resources
Day 2 will cover:
Editing audio, using free software 'Audacity', editing single and multi-track files, alternatives to Audacity
Social audio, platform overviews, pros and cons, test activities
Use cases, which social audio platform would suit your brand, case study inspiration
Interviewing and scripting, tips on writing scripts and interview questions, sourcing guests for podcast and social audio
Need to know
Date and Time: 11 & 12 August, 9am-1pm both days
Tech required: Zoom version 5.0 will be used – you'll receive a link and password for the event once you have reserved your place.
Tickets: through Eventbrite
Full price: £150 for both days (£150 total)
Patrons: £130 (become an International Magazine Centre Patron from GBP £10/US $15 per month)
Pay it Forward: Many publishers are finding it tough at the moment. If you're in a position to do so, we invite you to donate the price of a ticket for someone who would otherwise be unable to attend.
Bookings: through Eventbrite