Take-aways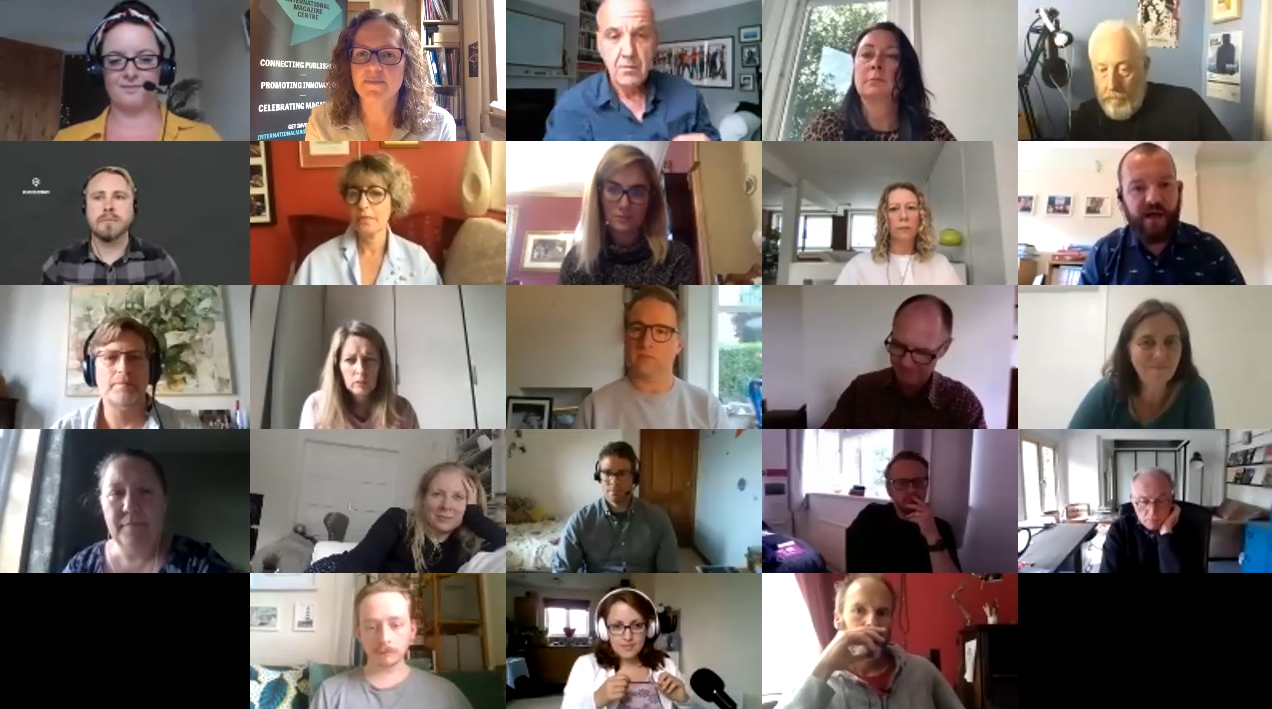 Our Troika Consultation on 3 June went brilliantly and received some fantastic feedback. Our key take-aways from the individual Troikas are below, together with some awesome testimonials – thanks to everyone who was involved.
Huge thanks to Sam Bradley, Publisher of Counterpoint magazine, who wrote the following blog piece about the event:
Stepping into the tiger cage
I'm not a confrontational person. I wouldn't last a minute on Newsnight. Nor would I stand up very well on Dragon's Den. So, the basic concept of a troika had me spooked. Three industry experts evaluate your magazine, your business – your passion project – right in front of you? Sounds like an ambush. It sounds, to be frank, like a parent's evening.
But I love talking, and thinking, and even occasionally arguing, about magazines and what they can do, even when there's the chance of having my hard work poked, prodded and prognosed. And this was a rare opportunity to do that with three proper publishing heads, face-to-face, or at least Zoom-to-Zoom.
Which is how I found myself presenting my magazine, Counterpoint, to a small panel of magazine veterans. I would present a potted version of the mag, identify a single problem, and the three talking heads would suggest a number of solutions in a set amount of time.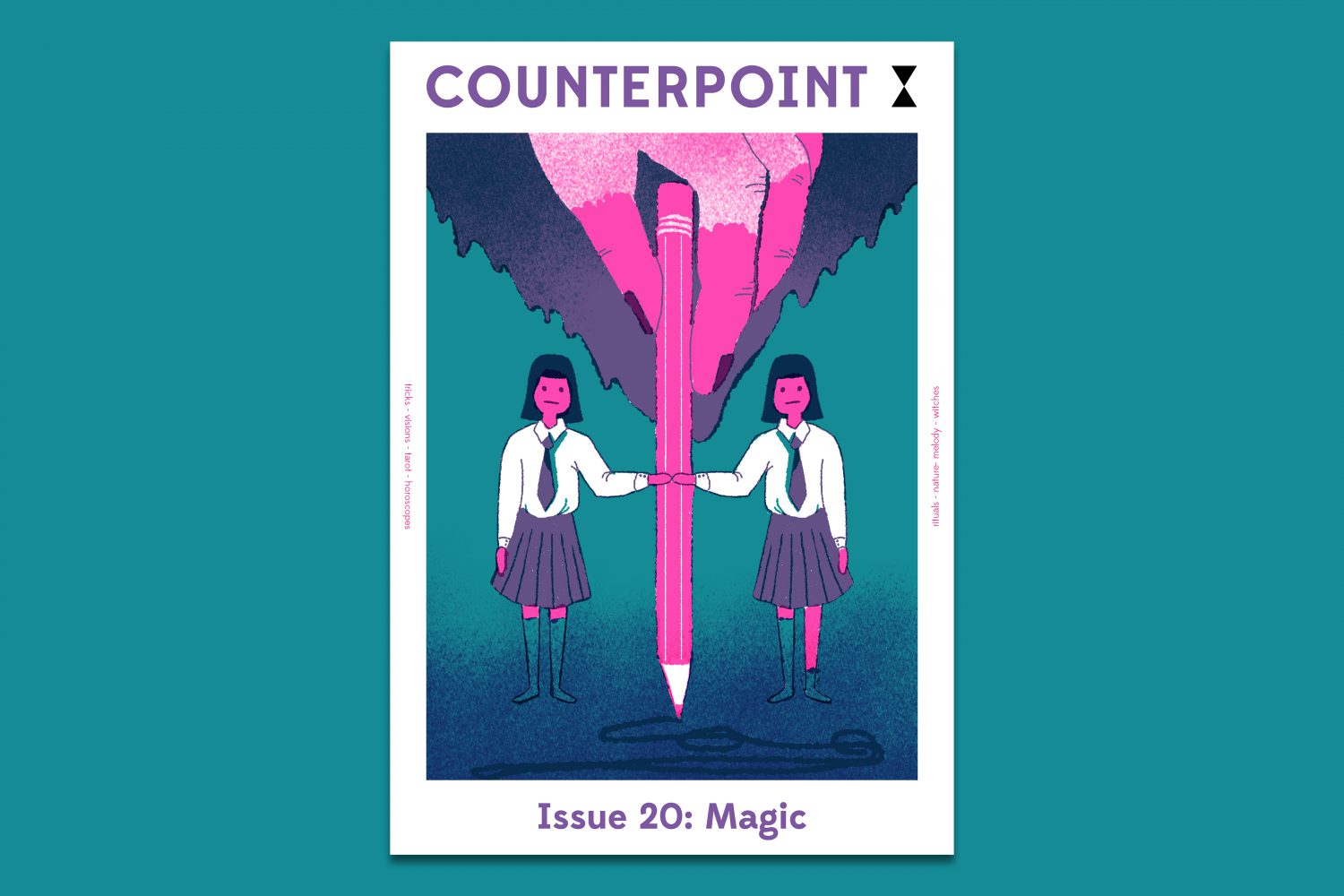 The elevator pitch is simple enough. Counterpoint is an indie general interest magazine that publishes new, fascinating journalism with original illustration. We've been in print for about five years and publishing for seven, a side project we started as students that grew legs and arms. It's Risograph printed and hand-bound by my co-editor, and deals with a different (sometimes very odd) theme each issue, and we're very proud of it.
My question, given the magazine is produced on a particularly thin shoestring, is how we could improve our marketing efforts. There are, of course, any number of ways to bring a magazine to its readers – but there's only so much time in the day, and only so much cash to splash around.
So having three guides think aloud, talk each other through potential panaceas to our problem, was actually invaluable. Given my question was one that nobody in the industry has ever truly solved, that discussion could go on for ages, but controlled format of the troika helped streamline the discussion.
In the short time we had, we managed to range over the entire marketing operation, such that it is, behind Counterpoint and managed to pinpoint areas of focus such as using social media to drive pre-order sales; pushing ourselves to the front of the project for a bit of PR; relying on our extensive back catalogue of evergreen content to provide fresh digital content. All good advice, and all solutions that are in reach.
Since then, we've taken that advice forward. Our next issue is coming down the pipe right now and we've been focusing on pre-orders to make the most of that launch week splash. Evergreen content will take a while to prep, but it's a great way to fuel our website with fresh content and provide readers with a way of sampling the magazine before buying the next print edition. As for PR – the journalist in me recoils at the idea of making myself the story – but we'll try it, in time.
It's been going well, considering there's a pandemic and probably a recession on right now. So, from this non-confrontational mag maker, I'd recommend stepping into the tiger cage – it's only fifteen minutes, after all.
---
Testimonials
[Troika is] a fascinating process. We each had a chance to present a business problem and got some instant, creative, inspiring ideas. I came away with a page of relevant notes for mine!
Carolyn Morgan, publishing consultant
What a brilliant experience today!! We were a great group and it was wonderful to sit back (for once) and listen to others speak! The feedback and comments were incredibly useful and thought provoking. Thank you for including me and would definitely go again on the whole experience.
Margot Wilson, Industry Lane
A brilliant way to get fresh eyes and expert brains onto a problem. In my case it quickly told me that I'd been approaching the problem in the wrong way, which opened up a whole new set of options, on top of the excellent suggestions from the room. The benefits: rapid input from a room full of peers and experts; non-judgemental environment; networking.
Alan Rutter, Fire Plus Algebra
This was a brilliant event and would recommend to everyone in publishing or content. A great way to get feedback on your ideas and business model. Check it out.
Rupert Cornford, Story Publishing
The International Magazine Centre Troika event was extremely – surprisingly – useful. In practice, the discipline of listening to other people frankly discussing your business problems without being able to interrupt to clarify or justify was really powerful – allowing me to absorb and reflect, without feeling attacked. Then you have a turn to hear and discuss other people's problems, which allows you to assume a completely different perspective, shifting your view of your own business.
I found the whole experience constructive and motivating and look forward to taking part in the next one. In the current climate, I think publishers coming together to honestly and creatively support each other in this way is great to see.
Paul Evans, Fourth Estate Creative
The [Troika] process is light and strong, generating plenty of insights all round. But most valuable of all, the International Magazine Centre's careful planning delivered a high quality networking experience. In the current climate, that's golden.
Andy Cowles, Cowles Media
We traded professional 'problems', offered ideas and support and came away thoroughly energised. I highly recommend it.
Kitty Finstad, The Good Vikings
---
Take aways
Chatham House Rules applied to the Troika but publishers were asked if they might be willing to share a top take-away from their sessions with other publishers:
Revenue generation:
Problem 1: How to get more sponsorship for an annual event with a large audience. Feedback: If the advertising revenue is difficult to get but you have a large engaged audience, consider switching to a membership model. Thinking about what you can offer them as part of that membership is a good place to start.
Problem 2: How to derive more money from consultancy. Feedback: Focus on one thing and do it properly – don't hop around too much. Partnering with other groups and associations. Drill down into smaller groups and get people to share as a partner, see where the overlaps are, identify audiences.
Content strategy:
Problem 1: Content creation – how to differentiate and cut through in a busy environment. Feedback: Be specific and focused to stand out – be the best and be very specific about who you are and what you're trying to do so you can sell that to your audience and clients in a clear way.
Problem 2: Getting publishers to think in other languages and rethink their content strategy. Feedback: Set up a series of workshops with a small group of publishers in a similar space, work through with them on what all the barriers and challenges are, co-create solutions with that small group of customers.
New magazine projects:
Problem 1: New magazine project – will it be feasible in a post Covid world? Feedback: Look at audience needs, not assuming the audience wants a magazine – build an approach around that engagement – a magazine may be a part of that, but be creative.
Problem 2: Independent magazine ready to launch to predominantly B2B customer base, needs ads which have now stalled – do they publish as digital or print anyway and take the hit? Feedback: Break it up into teaser pieces and distribute digitally – peel off from the main to create content that will prove the worth of the title, to pique interest with readers, advertisers and subscribers. Break it down but don't give it all away.
Problem 3: Pitch for a client magazine put on ice. Feedback: A print magazine is of even more value now during Covid when everything has gone digital and ephemeral. Not something that should be parked – should become even more urgent. Magazines are tactile, they say something about your brand, something in their hands from a social distance.
Working during Coronavirus and preparing to emerge from lockdown:
Problem 1: How to motivate teams to innovate, when they're having to do even more in challenging circumstances, how to get them to come up with new ideas. Feedback: Make it clear that by coming up with new ideas they'd be benefiting themselves. They would be gaining new marketable skills, perhaps a trade of come up with new ideas and you'll receive some training on how to use new software or new languages.
Problem 2: How to monetise a suspended print publication during Covid. How do you stay in touch with your audience base? Feedback: Branded content still remains the number one revenue driver for a lot of small publishers.
Problem 3: Print publication on pause because of Covid. Feedback: Publication is quite evergreen, so re-use past content to boost future issues, get pre-orders or market it online.
Problem 4: Virtual events – how to do round table online networking well. Feedback: Use technology to find out people's area of interest in advance and match them up. Offer concierge system and set up one-to-ones with other attendees – ensures people turn up.
Problem 5: Switching to running virtual events from real life events – how to emulate the networking and social aspect afterwards. Feedback: If you have 50 people in a webinar you need to break it down into smaller breakout rooms. This could be done around a quiz or around something socially orientated – the secret is to break down the bigger audience.
Problem 6: Advertising is on hold because of Covid. Is it ok to ask people for money? Feedback: Absolutely YES. It's in nobody's interest for a magazine to disappear at the moment – you're an important part of that ecosystem so go to regular advertisers and say 'we need your support' – however you package that – discounting ads, or packages or focusing on direct response ads. Advertisers will need you when it's all over.
Problem 7: Challenge of B2B print magazine – when do you come back after suspending print, how frequent, do you change the format? Feedback: However much research you'd done before Covid, you need to talk to your readers and advertisers to work out what the job is that the print magazine is doing. Is there aa way of reinventing, relaunching or repackaging the magazine content that suits the new world.
---
Troika Consulting: Present your magazine publishing problems to the experts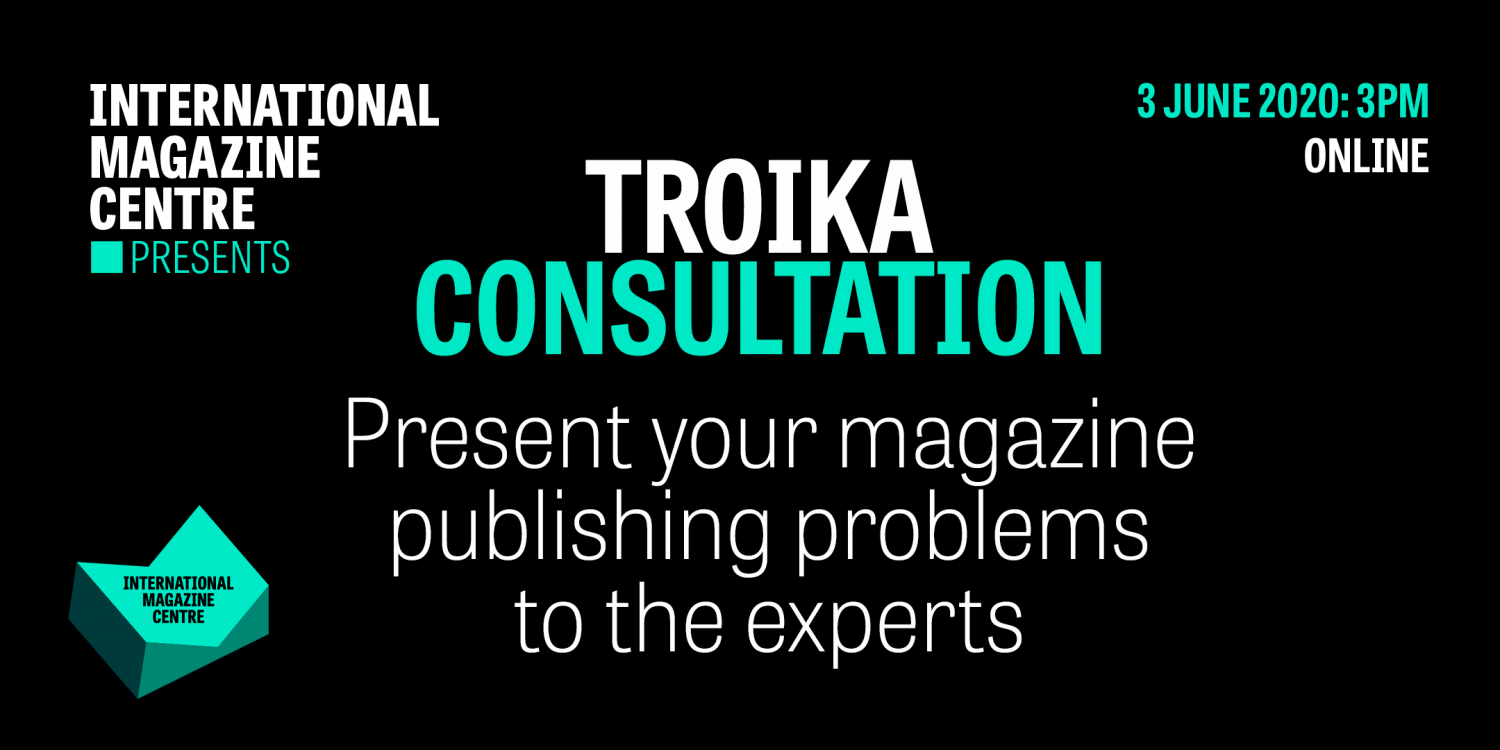 As we begin to emerge from lockdown, all businesses will need to navigate the next stage of planning and risk management to ensure a smooth transition, and magazine publishers are no different.
As publishers, you're well versed in the benefits of building engagement with your own audiences, but what about sharing experiences and learning from each other?
There are fantastic insights to be gained from honestly sharing problems with your peers in the industry, and there's no better time than now.
Join us on 3 June from 3pm-4.30pm to be part of this Troika Consultancy workshop, to help future proof your business.
What is Troika Consulting?
'Troika' is a peer-to-peer consulting technique that allows groups of delegates to share business issues they're experiencing, and to help solve the problems of others.
This concept encourages collaboration and capitalises on the shared benefits of bringing together a diverse range of views and approaches to solving problems.
Each group will include three publishers, one magazine publishing expert and facilitator, and one supplier to the industry.Find out more
Our Facilitators
We've invited an incredible mix of experts in magazine publishing to facilitate each of the rooms and offer their advice.
With further names to be announced…
Who should attend
We want everyone in attendance to get a lot from the Troika, so need people to be on a relatively level playing field. This Troika Consultation is therefore targeted at:
decision makers from SME magazine publishers
magazine publishers with minimum 2 years experience, across at least 6 issues of a magazine
consumer, B2B, contract, membership, internal, indie or local magazines
from anywhere in the world
Need to Know
Date and Time: 3 June, 3pm-4.30pm
Tech required: Zoom version 5.0 will be used – you'll receive a link and password for the event once you have reserved your place.
Tickets: through Eventbrite

Full price: £20
Patrons: Free (become an International Magazine Centre Patron from $5/month and attend all events for free)
Pay it Forward: Many publishers are finding it tough at the moment. If you're in a position to do so, we invite you to donate the price of a ticket for someone who would otherwise be unable to attend.

Bookings: through Eventbrite
Event Partners
Many thanks to our event partners for their fantastic support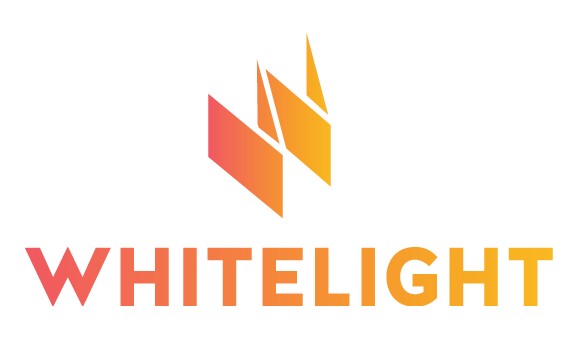 White Light Media is a content agency dedicated to winning hearts and minds. Our work is based on powerful storytelling, beautiful design and close collaboration with our clients. Contact eric@whitelightmedia.co.uk to speak about collaborating on any content projects. whitelightmedia.co.uk