What do you do for a living?
Pre-covid (or as I like to call it: pre-hell), I was working at a local high school as the librarian. I spent my day surrounded by books, making super over-the-top posters and channelling my inner 'Miss Honey, if she was from up North'. It was an absolute dream. Right now, I'm eagerly waiting to start a masters in Publishing at Edinburgh Napier from September. Another dream.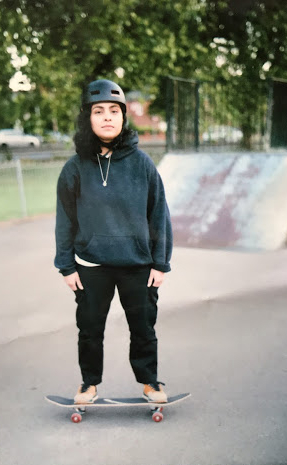 What does that mean day-to-day?
I read somewhere once that the key to a blissful life is a garden, a bookcase and a friend. I may be in a furlough-fuelled state of limbo right now, but I'm doing my best to look after my head and heart and find joy in the simple things. More than anything, I've been utilising this time to focus on the first issue of my online magazine – brown + anxious.
There has always been a powerful urge within me to bring my ideas to fruition and create a platform for others who share my truth, one that centres around being truly seen. Brown + anxious is a digital magazine that focuses on destigmatising mental health in South Asian cultures in a way that inspires hope. Being diagnosed with depression and anxiety has really cemented the notion of how important it is to have these kinds of discussions and to know that it's okay to feel what we want to feel when we want to feel it.
The first issue takes on the theme of Hausla (translating to 'emotional courage' in Urdu ), which is what we need now, more than ever, during these difficult times. For me, hausla is the foundation of any sort of healing. Whether it be personal or collective, we need a flow of healing to move us forward. I hope to have this published in September. Yikes!
What do you love about magazines?
From a young age, magazines have allowed me to see the world in endless lights – and it is this element of 'there is always something new to learn about', that has truly cemented my ongoing love for all things print. Also, the passion that goes into them is always so exciting to see – I really want to follow that feeling for my own.
Why are you supporting the International Magazine Centre?
It's such a great platform for independent publishers – one that fills me with so much optimism and the most inspiring thing about it is that the support is mutual. As a Patreon, I have the option (a no-brainer to be honest), to be mentored by a publisher!
Find out more about brown + anxious on Instagram
Follow Azkha on Twitter and connect with her on LinkedIn