We worked with Kirsty in 2021 on her inaugural Aligned for Success group coaching programme, and it transformed the International Magazine Centre. The way we perceive ourselves, our strategy for marketing, funding, processes, our vision, the customer journey, you name it – every single thing has shifted either slightly or in a huge way.
We can't recommend her highly enough!

Join Kirsty Waite to discuss exactly what it means to build your business with intention and how feeling impactful can drive your business forward.
Patron Discount
International Magazine Patrons receive a 60 minute 1:1 session with Kirsty, valued at £249, free of charge, when signing up to any programme or cohort.
---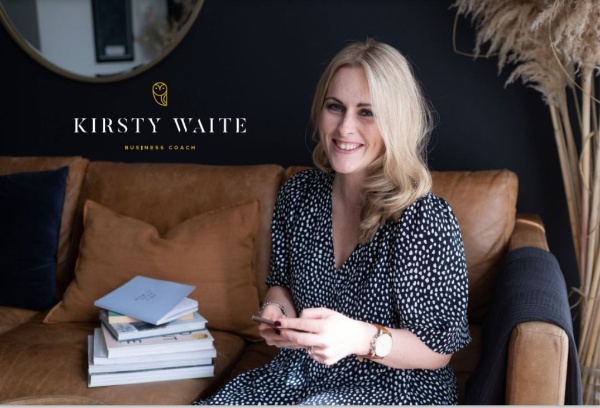 Why you should choose Kirsty Waite, Business Coach
We had a chat with Kirsty on her passion for coaching and how she can help to transform your business:
I think what I genuinely love about it is being able to move people to where they want to be, quicker than they could ever get there themselves. Also changing their perspective and mindset of themselves, their business, and how that really transforms their own happiness, their family's happiness – and the kind of impact that has!

Every single client I work with undergoes significant changes in their business. They come to me completely overwhelmed, not really sure what they need, they just know they desperately need some help in the business. And they leave flourishing on the other side of it, being really positive about the future and the outcome.

I don't see it as just one stream, like I'm going in to fix something, I see it as a future proofing of their business, because once I've coached somebody they have a different perspective and a different mindset.

Then they can recreate that for themselves, or they'll think differently, or they'll be a little bit more curious, or they'll just look at something completely different and see a solution, whereas before they would have just seen a problem.
---
There are three ways to work with Kirsty
Masterclass
3 Steps to Becoming an aligned thinking owner, so you can leave overwhelm and confusion at the door and start to create a profitable business that feels good.
Perfect for:
A service-based business owner or freelancer
Within the first couple years of your business
Constantly feeling like you are going round in circles
Lacking direction
Ready to finally rid the cycle of overwhelm
---
One-to-one
Six month transformation programme
For those who are serious about creating a BIG impact in their business. The ambitious action takers looking for level support!
This six month intensive VIP coaching package is for the ambitious, action-taking, service-based business owner who is ready to go ALL-IN with their business!
Initial 2hr deep-dive strategy session
Weekly accountability support
2 x 60min personal coaching sessions per month
Voice note support via Voxer
Joint private working space
Access to my Aligned for Success online programme resources
1 x 60min reflection session at the end of our time together
---
Aligned for Success – Group Coaching Programme
The Aligned for Success group coaching programme is for the online service-based business owner who is ready to thrive in a business that feels good!
Imagine leaving overwhelm at the door and making decisions with laser-sharp clarity and an overriding sense of purpose.
It's time for you to stop settling for the default life and start to intentionally create your future; finally stepping away from the struggling, overwhelmed business owner and stepping into the power of the aligned, energised, thriving business owner!
Aligned for Success is for YOU if you are:
Ready to rid the overwhelm
Craving structure and clarity
Stuck and frustrated because you know you are capable of more
Ready to lead your business
Looking for a sense of community with like-minded business owners at the same stage as you
Ready to ditch the excuses, step up and take INTENTIONAL action to create a profitable business where you can thrive!
What's included:
Fortnightly live group coaching calls throughout the six months
Exclusive Members Area – access to additional resources and materials
Private Slack group for support from Kirsty and like-minded ambitious business owners
Guest expert sessions – your very own mindset expert that will help you unlock limitless possibilities
Accountability support to help keep you on track for your goals
Voxer access to Kirsty during office hours between calls
---
Take a look at Kirsty Waite's website to find out more or to join one of her Business Coaching Programmes.
Follow Kirsty on Instagram for posts that will motivate you to drive your business with intention, or connect with her on LinkedIn and begin changing your business for the better.