The International Magazine Centre provides SEO, Content Marketing and Backlink Audits for publishing businesses.
Content Marketing and Backlink Audit
Do you know what content you should be writing?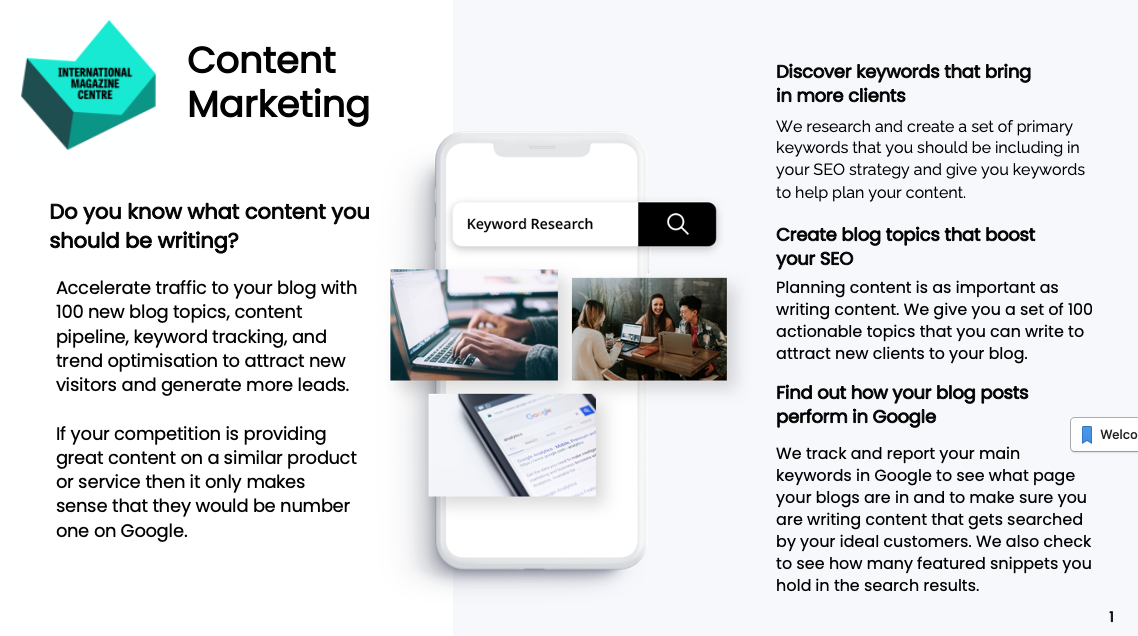 Discover keywords that bring in more clients, create blog topics that boost your SEO, and find out how your blog posts perform in Google.
Accelerate traffic to your website with 100 new blog topics, content pipeline, keyword tracking and trend optimisation to generate more leads. We carry out analysis of your competitors, of any content gaps, and we identify Google trends to help you prioritise your content plan.
Finally we carry out a Backlink Audit to health check the websites mentioning your articles.
Complete the form below to receive access to our Content Marketing & Backlink Audit slide deck for more information.
---
SEO Audit
Google looks at relevancy when determining the performance of a website, so it's important to make sure your pages are optimised and you don't have duplicate, missing or thin content issues on the site.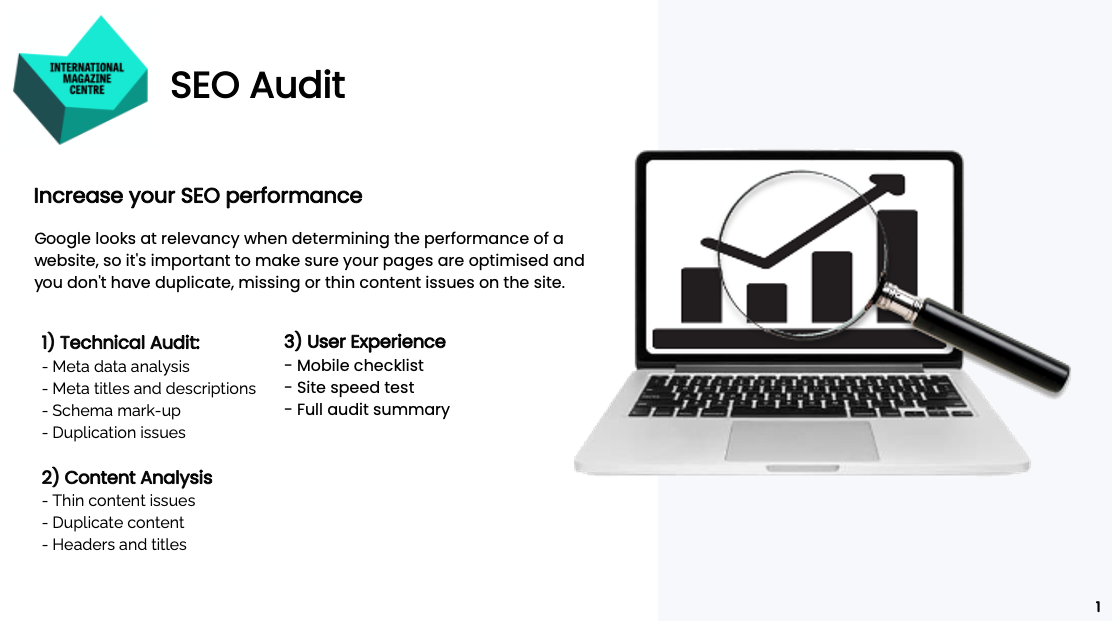 First, we carry out a technical audit on your website to find any duplicate or missing metadata, creating an actionable report with the URLs that have issues.
Next, we carry out a content analysis to determine gaps, duplicates or irrelevancies.
Finally, we look at the user experience across mobile, desktop, speed and performance, giving you an overview of how the site can be improved.
Complete the form below to receive access to more information on our SEO Audit.
---
Full price cost:
Content Marketing and Backlink Audit: £500
SEO Audit: £200
Please note, the International Magazine Centre is not VAT registered.
The cost to Patrons:
As part of our Patron benefits for businesses, we offer one free SEO Audit for your website.
We also offer Business Patrons a 10% discount for subsequent audits on SEO, Content Marketing and Backlinks.
---
For further information regarding pricing structures and additional services, please contact director Nikki Simpson.
[caldera_form id="CF5fa92b8bd62b1″]