We're heading off to the Peak District for a Patron Away Day – a half day's conference and residential to take time out to work on your business, connect with other people working in publishing, and blow the cobwebs away.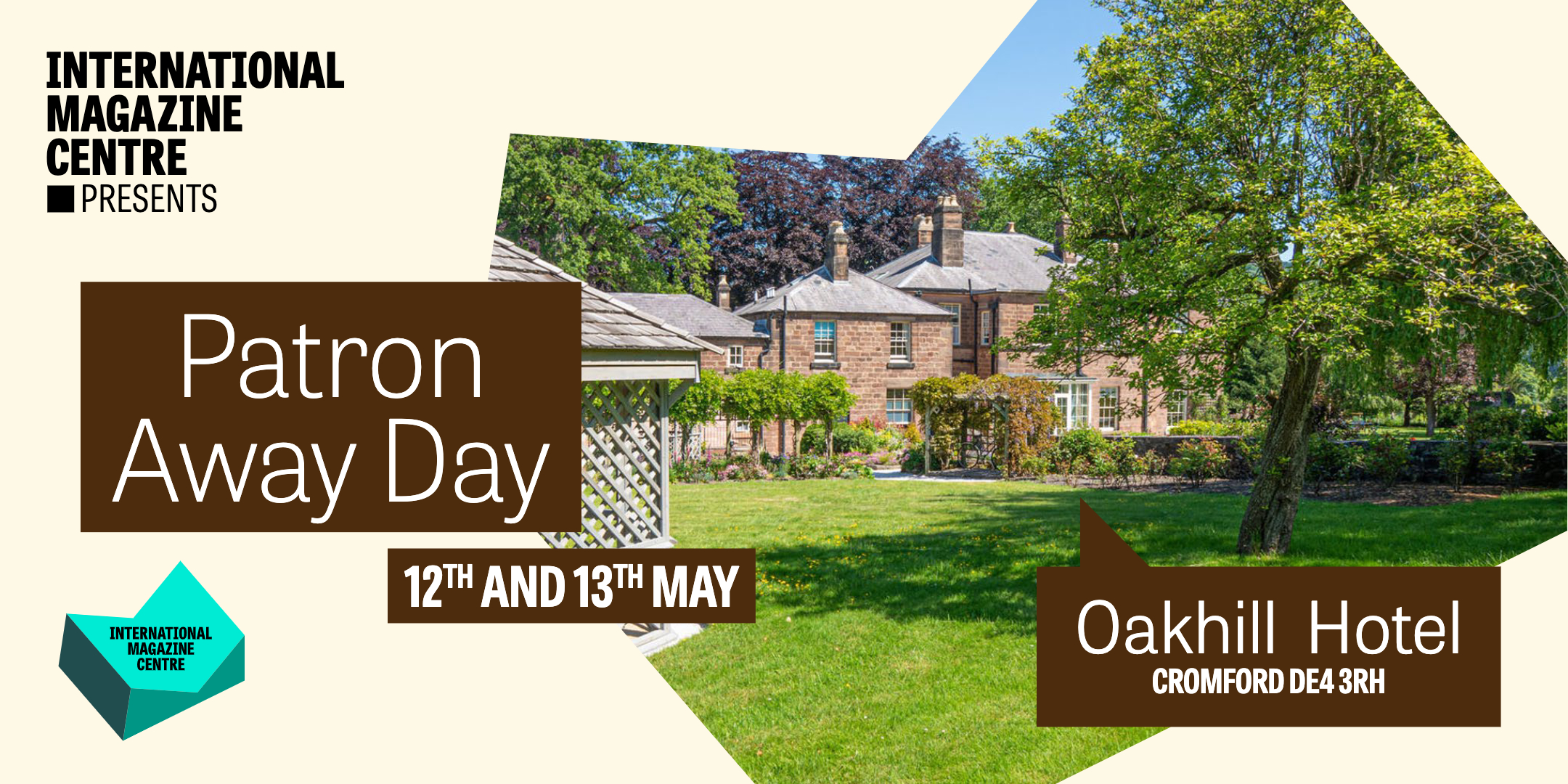 What to expect at the conference
This is a half day conference for people working in and around magazine publishing.
But there's a twist. Bar one person*, the speakers at the conference will also be the delegates.
Once you've booked to attend, we'll ask you to submit the topic of something you would like to talk about. This could be business or personally focussed; it could be magazine related or something that feeds the industry; it could be an unusual hobby that you think others would be interested to see, or learn how to do.
The topic is entirely up to you, as is the format – it could be a talk, a workshop, a conversation – whatever you'd be happiest with. We suggest 30 minutes for each session, but if you have an idea that would be longer or shorter, just chat to us about it.
We'll take all the topics submitted, anonymise them, and then put them out to vote on from everyone attending. This means that whoever gets chosen will know that there's already lots of people who would like to hear from them, which hopefully will reduce some nerves, and make the conference useful and fun for everyone.
Not sure what to pitch? Email Nikki Simpson for a chat.
*Who's the one person?
We've invited business coach Kirsty Waite to join us and set the scene for the conference. We worked with Kirsty last year, and know many of you have too, so we know we're in good hands.
"Building a business with Intention. Join me Kirsty Waite to discuss exactly what it means to build your business with intention and how feeling impactful can drive your business forward. The session will set you up for the day, to optimise your time amongst other awesome business owners and help you get the most out of this Away Day. During the session, we will explore and set intentions for the day ahead and give you food for thought on the future of your business. Don't just SAY what your intentions are, DO this."
She sounds good doesn't she? That's because she is.
Before and after
We'll have lunch on arrival on the 12th, then the conference with a break in the middle, time to chill out a bit before dinner, then dinner and drinks in the evening. Breakfast will be available on the 13th, and there'll be a chance for a talk-and-walk with Kirsty (weather permitting) before we head home.
Thursday May 12th
11am-12pm Arrival and check in
12pm Lunch
1pm Conference Part 1

1pm Welcome and introductions
1.20pm Kirsty Waite: Talk – Building a business with intention
1.40pm Joanna Cummings: Talk – F*#& Imposter Syndrome: how I learned to be more confident
2.10pm Sophie Cross: Workshop – Being a LinkedIn badass

3pm Break for refreshments
3.30pm Conference Part 2

3.30pm Andy Cowles: Talk – Online workshops for content creators – how to sell what we know, not just what we do
4pm Hamish Dickie: Conversation – Working in Magazine Publishing – is the juice worth the squeeze?
4.30pm Helen Coston: Talk – Five ways to increase my advertising revenue
5pm Peter Houston: Workshop – Ideas worth stealing

5.30pm Break before dinner
6.30pm Dinner

7.30pm During/After Dinner: Rachael Hansford: Conversation – How do we define success in small business?
Friday May 13th
Timings tbc, but likely
8am-9.30am breakfast
10am-11am talk-and-walk with Kirsty Waite
11am check out and head home
Tickets
This is a Patron-only Away Day, so if you'd like to attend but you're not a Patron, please sign up here and we look forward to meeting you.
Tickets to attend are:
£300 per person for a Premium room with sole occupancy
£225 per person for a Premium room with shared occupancy. If you would be happy to share but are coming alone please let us know and we will pair you with someone of the same sex
£260 per person for a Standard room with sole occupancy
The ticket price includes attendance at the conference, your accommodation, all food and drink. We ask you to make your own way there – if you would like to car-pool, get in touch and we can introduce you to other people coming from your area.
FAQs
Q Where are we going?
The Oakhill Hotel in the stunning Derbyshire countryside, set in extensive landscaped gardens within the historic village of Cromford. The address is Oakhill Hotel, Intake Lane, Cromford DE4 3RH.
Q I'd like to car pool – can you put me in touch with others attending?
We'd be happy to. Email us and we'll introduce you to others coming from your area.
Q What happens if I book but then can't come?
As numbers are limited based on room occupancy we will refund you:
100% of the ticket fee if cancelled more than one month from the event
75% of the ticket fee if cancelled between one month and three weeks from the event
50% of the ticket fee if cancelled between three weeks and two weeks from the event
25% of the ticket fee if cancelled between two weeks and one week from the event
0% of the ticket fee if cancelled less than one week from the event
Q What happens if Covid restrictions increase and the event is cancelled?
We will refund all ticket fees.
Q What kind of anti-Covid measures are you putting in place?
We ask everyone attending to take a Lateral Flow Test the morning of the 12th May, and ask you not to attend if your test is positive.
Q I've got more questions, who do I speak to?
Please direct all enquiries to Nikki Simpson, she'd love to chat to you.